Where to buy legal weed in Las Vegas
Pick up prerolls, flower, tinctures, vape pens, edibles, and more at Vegas' best cannabis dispensaries.
Upon arriving at Harry Reid International Airport, the question at the front of many tourists' mind is "How can I score weed in Las Vegas without breaking the law?" The answer is both simple and complicated at the same time. Anyone 21 and over can legally buy cannabis from a dispensary. Just bring your driver's license, passport, or another form of legal ID. Here's the tricky part—the only place you're legally allowed to consume cannabis is at a private residence. Public consumption lounges have yet to be legally approved and while you'll catch the occasional whiff of reefer on the Strip, smoking in public spaces (including garages and parks) remains illegal. Cannabis use in hotel rooms is generally off-limits too, especially when casinos, which are heavily regulated, are on property.
So if you (or a friend) has a private home, great. Light one up. Some Airbnb rentals are 420-friendly (and a few even market themselves around it), but be clear on policies in advance. Stinking up somebody's house without permission is bad form. Vapes, edibles, and other non-smoking forms of consumption are more discreet. Just be aware of the law, use your best judgment, and take advantage of Uber, Lyft, or another form of public transportation when high. Here's the good news—cannabis dispensaries are everywhere these days. Technically, none are allowed on the Strip, but a few are within easy walking or driving distance. So look over the following suggestions and get familiar with the best places to legally buy weed in Las Vegas.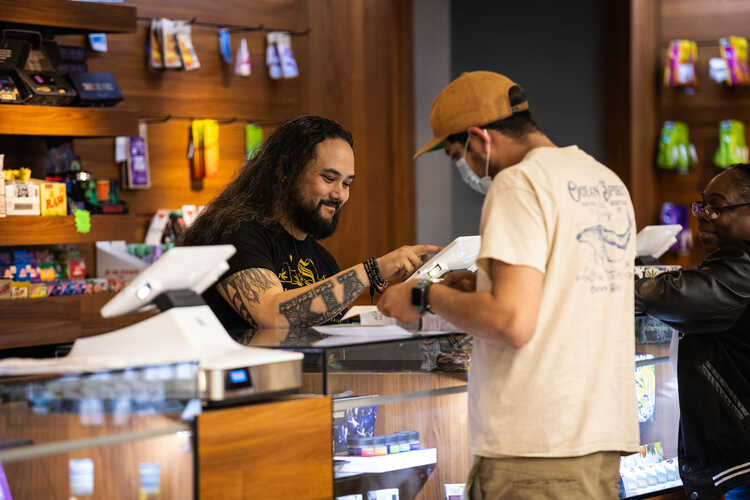 The Sanctuary was founded by a group of Nevada doctors, who believe in the health benefits of cannabis and take inspiration from Burning Man's ethos of giving. Medical consultations on cannabis are offered to anyone (customer or not) on a pro bono basis and the ongoing discount of $99 per ounce is hard to beat. The Sanctuary cultivates its own crop with a hybrid greenhouse that uses Nevada's hot desert sun instead of HVAC units for cultivation. The result is a natural tasting product (under house brands Sacred Herb and Solaris Farms) and a smaller carbon footprint. Live resin is extracted from flower that's frozen immediately upon harvest to retain quality and terpenes. The Sanctuary also has fun with old-school strains like 91 Chem and Bubblegum Breath. The Downtown location is in the Arts District with a dark, gritty vibe that's still warm and friendly. The North Las Vegas location is larger, higher volume, and open 24 hours.
420 Intel is Your Source for Marijuana News
420 Intel is the leading source for cannabis news from around the world. Get the latest updates on cannabis legalization, politics and technology, as well as developments in medical and recreational marijuana news. Our commitment is to bring you the most important cannabis news stories every day of the week.
At 420 Intel we understand that effective marijuana industry news coverage is a constant endeavor. Every day stories develop regarding cannabis legalization, technological developments, and the medicinal benefits of marijuana use. Each new development carries the potential to impact the marijuana industry regionally, nationally, and internationally. 420 Intel is the marijuana industry news outlet that will keep you up to date on these developments and how they impact the world around you.
With the marijuana industry constantly evolving, you need a cannabis news outlet to keep you abreast of the pertinent information. At 420 Intel, we cover marijuana legalization news throughout the world, offer reliable information for cannabis business owners, detail technological advances that impact the marijuana industry, cover marijuana rallies from across the globe, and everything in between.
You can get 420 Intel news delivered directly to your inbox by signing up for our daily marijuana news, ensuring you're always kept up to date on the ever-changing cannabis industry. To stay even better informed about marijuana legalization news follow us on Twitter, Facebook and LinkedIn.